September 19, 2007 at 7:51 am |
sam
|
nerd
,
stupid technology
,
wild web
You know that you've been studying photophysics too long when you keep trying to spell the state "Fluorida"!
So I took a nerd test. I think it's broken: my score was way too high:
That just can't be right. So I took the version 2.0 of the same test. (It wasn't very Web2.0, by the way.)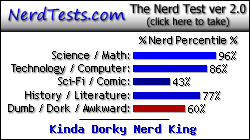 So that broke it down for me. Thanks. My lack of comic-book knowledge dropped my score in that category. I think my score was so high in the last category was because I said that I don't mind the holes in my socks. But I don't think that makes me awkward. I mean, I have a girlfriend. Shouldn't that make my score way lower?
7 Comments »
RSS feed for comments on this post. TrackBack URI
Leave a comment
Powered by WordPress, Theme Based on "Pool" by Borja Fernandez
Entries and comments feeds. Valid XHTML and CSS.
^Top^